As a real estate brokerage owner, you understand the immense challenge of converting leads into sales. Statistics show that, on average, only 1% of buyer and seller leads actually convert. The reason behind this disheartening figure lies in the difficulty of nurturing leads at scale over time, especially considering the considerable time investment required for real estate transactions. However, effective lead nurturing has been proven to generate 50% more sales-ready leads, while reducing costs by at least 33%.
Until recently, investing in lead nurturing has been an expensive endeavor, which is likely why a shocking 65% of marketers are not nurturing leads. However, with the advent of new technology, the game has changed dramatically. Our clients have experienced astounding savings of up to 81% on lead nurturing costs, making it an affordable option for brokerages of all types—especially those looking to cut expenses during a recession.
In this article, we will explore three powerful strategies that will help you dominate lead nurturing in 2023 and beyond. These techniques have proven successful in boosting conversions and maximizing sales. So, let's dive in and uncover the secrets to mastering lead nurturing in the ever-evolving real estate landscape.
Instant Communication
While it might seem obvious—and you're probably seeing this customer service advice everywhere—instant communication should be the top priority of your lead nurturing. Not convinced? 50% of people will choose to work with a company based solely on who was fastest to respond. 
Consumers now expect 24/7, instant communication with brands. If they can't get the quick and seamless interaction they desire, they won't hesitate to explore other options. The responsibility falls on you as a real estate brokerage owner to make sure your agents are present and engaged whenever your leads are ready to connect. And this means more than just responding to inquiries—agents should be actively engaging with potential buyers and sellers on the channels consumers prefer, such as SMS and social media chats.
This is where a conversational AI chatbot becomes your ultimate ally. By leveraging the power of AI chatbots, you can ensure round-the-clock availability, responding to inquiries instantly and efficiently, as well as sending messages to proactively start new conversations. 
Conversational AI technology enables you to engage leads in real-time, 2-way conversations, regardless of human availability. With conversational AI as the backbone of your lead nurturing strategy, you can deliver the instant connection that modern consumers demand, increasing your chances of boosting your real estate appointment setting and converting leads into sales.
Personalized Experiences
The second pillar of modern lead nurturing is personalized experiences. Studies show that 80% of consumers are more inclined to work with companies that offer a personalized experience. Additionally, a staggering 72% of people will only engage with a company that uses personalized messaging. 
These statistics underscore the immense value that personalized communication holds in nurturing leads and building lasting relationships. In the past, achieving personalized lead nurturing at scale seemed like an insurmountable challenge. Limited data and poor data quality hindered the ability to tailor communication to individual leads effectively. However, AI tech is rapidly evolving, and personalized lead nurturing has become increasingly more feasible. The global personalization software market is experiencing exponential growth, with projections indicating a shift from $620 million in 2020 to a staggering $2.2 billion by the end of 2026.
If you're wondering what all the excitement is about, it's important to understand that personalization encompasses more than just remembering a lead's name. The most successful aspect of personalized lead nurturing in the real estate industry is leveraging real estate AI to recommend homes tailored to each buyer's specific needs and desires. While agents may send email updates with new listings to potential clients, nothing compares to the impact of receiving listings that precisely match your preferences, which is why we've incorporated it as a vital function of our AI chatbot nurturing here at Landslo. This level of luxury and convenience during the lead's customer experience leaves a lasting impression and gives them a compelling reason to continue engaging with your brokerage.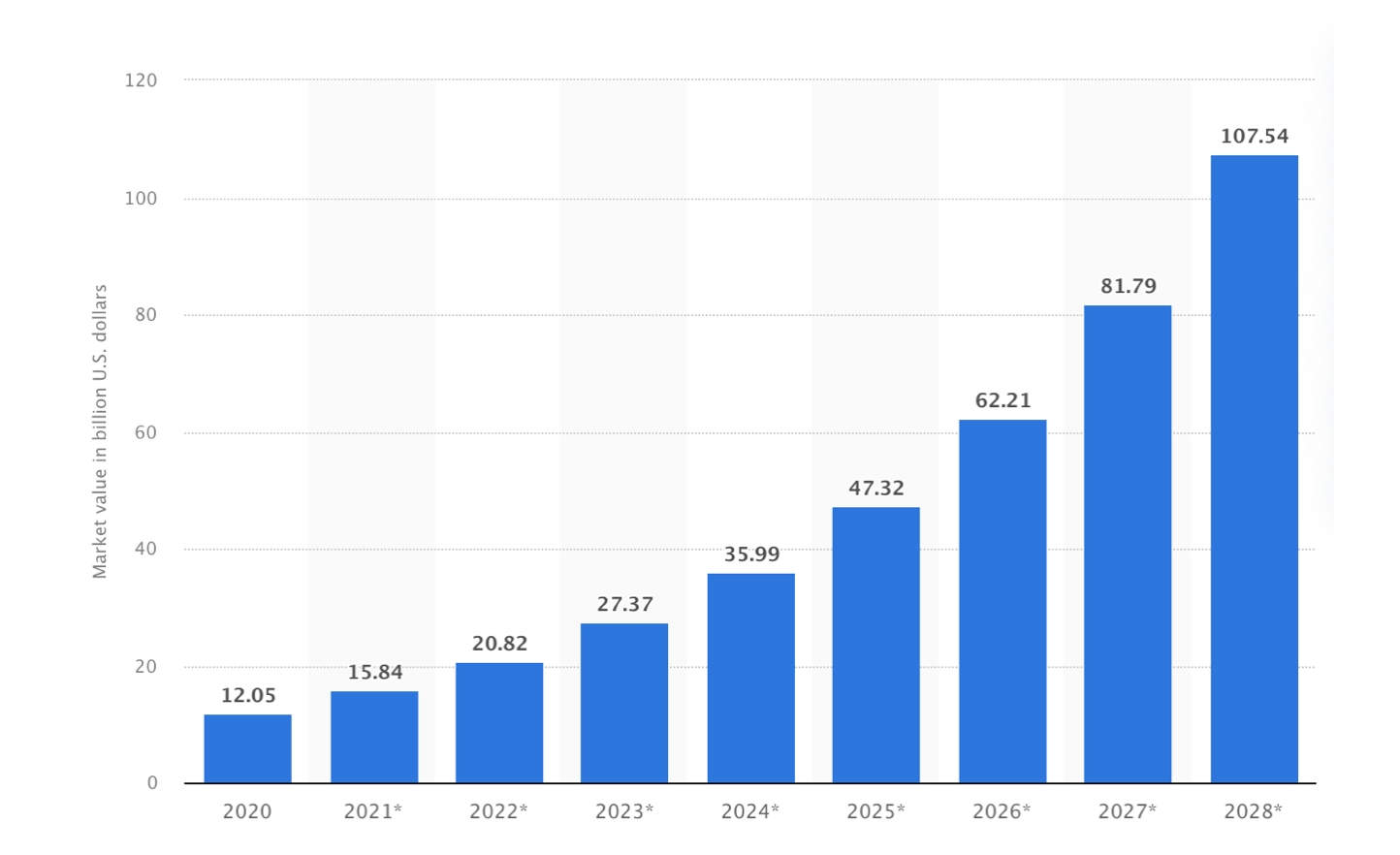 AI Market Value | Image source: Statista
Targeted Content Marketing
Content marketing has proven itself as a highly effective lead nurturing strategy, with costs 62% lower than traditional marketing, while driving three times the number of leads. In today's digital age, where the average person spends approximately 7 hours consuming content daily, it's clear that content plays a crucial role in effective lead nurturing. Consumers want to be educated, entertained, and guided throughout their buyer's journey. By providing valuable and supportive content, you can nurture leads and ensure that your brand remains top of mind.
However, it's important to note that simply sharing any content won't suffice. The key lies in targeted content marketing—delivering the right content to the right prospects at the right time. And the reason is simple—if you make your content highly relevant, you provide more value to the consumer. 53% of marketers admit that increasing the quality and value of their content was the most important factor in improving results. This targeted approach is a game-changer in lead nurturing. It circles back to the concept of personalization, where artificial intelligence (AI) plays a vital role.
And if you're wondering how you're going to pull it off, AI is the answer. AI technology enables you to create the perfect personalized experience for real estate leads and clients by tracking their journey and identifying content that aligns with their specific needs and interests at that time. By leveraging real estate AI, you can automatically analyze data points such as search behavior, engagement patterns, and first party information to understand each lead's preferences and deliver tailored content recommendations accordingly. A great example is our market information feature at Landslo—our conversational AI chatbot engages consumers by providing current information about their local real estate market after learning where they want to buy or sell a home. 
Targeted content marketing not only increases engagement and relevance but also helps you build trust and credibility with your audience. By consistently delivering valuable and tailored content, you position yourself as a knowledgeable resource and guide throughout your leads' real estate journey.
Dominating Lead Nurturing In 2023
To dominate lead nurturing, it's time to embrace the strategies we discussed in this article and leverage AI. By adopting instant connection, personalized communication, and targeted content marketing, you can set your brokerage apart from the competition, increase conversion rates, and cultivate long-lasting relationships with your leads and clients.
As the real estate landscape continues to evolve alongside technology, staying at the forefront of lead nurturing tech will be essential for brokerage owners. Which is why we invite you to book a demo with our team, so you can experience how our AI real estate concierge executes these lead nurturing strategies for our clients and hopefully your business too. However you go about it, implementing AI lead nurturing is the way to position your brokerage for success.